PICC Lines:


care, covers, tips + more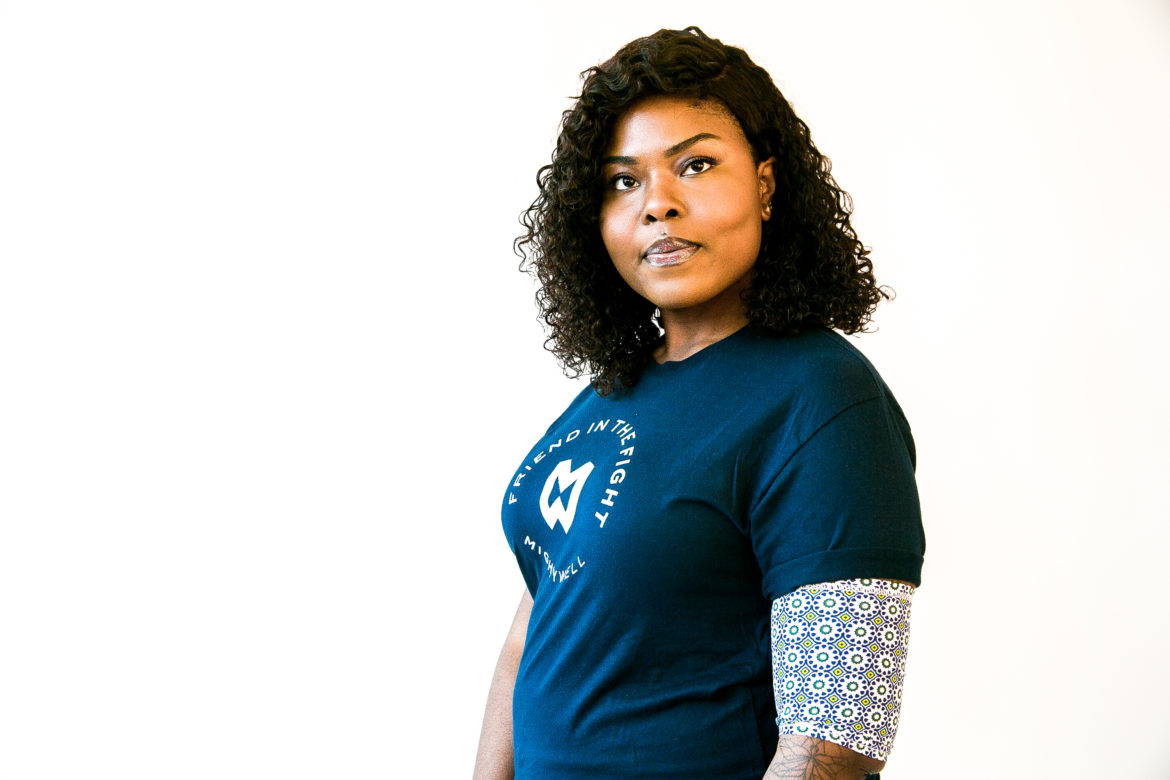 What to Expect with Your First PICC Line

Your first PICC line (Peripherally Inserted Central Catheter) you will likely come with a bunch questions. Do you want to know what to expect during the procedure and in your first days home? Don't worry, Mighty Well has you covered! Here's what to expect from your first PICC line.
---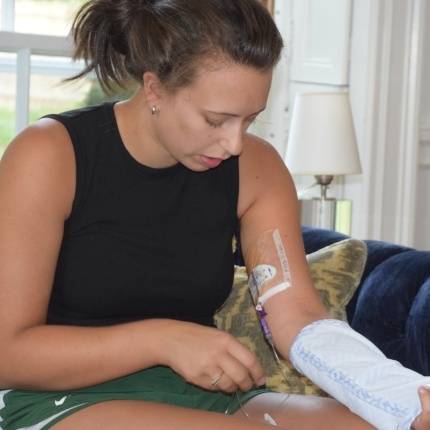 What happens during PICC line placement?

Any new medical intervention comes with some fears. The best way to calm these fears is to learn as much as you can ahead of time!  
PICC line placement is no different — the more you know, the more confident you will feel walking into the procedure.  A PICC line (peripherally inserted central catheter) is a thin tube inserted through the veins in your arm into larger veins near your heart. It is often used when patients need frequent IV treatments, to minimize pain and damage to the veins from frequent needles.  
We know how it feels to be facing this type of procedure, so we've put together a list of what to expect.
---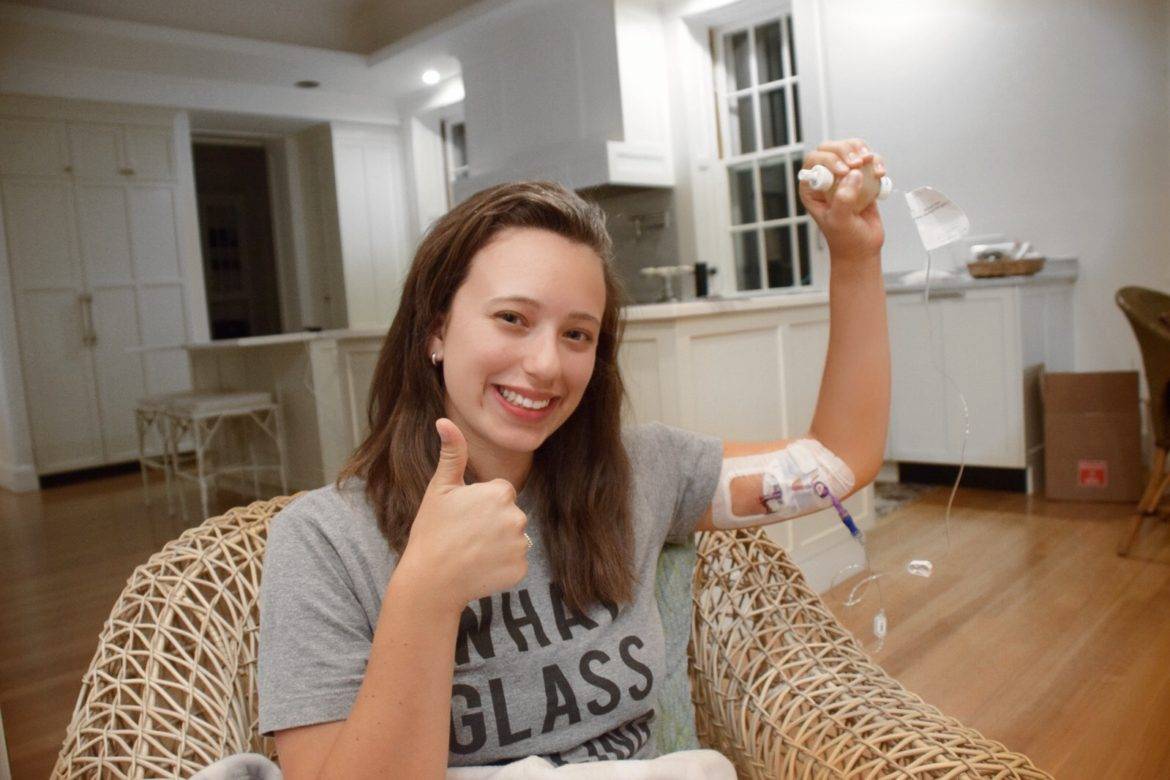 How to Change Your PICC Line Dressing

In the days after I first got my PICC Line inserted, I was obsessed with making sure it was clean and free from infection. Though we had regularly scheduled visits from home nurses, my Dad and I made it our mission to learn how to complete a PICC Line dressing change so that no matter what happened, we would be able to keep the site clean, secure, and protected.
Those first few days were scary and I was so grateful to my dad for taking the time to learn how to learn this process. I quickly learned that together, we could complete a PICC Line dressing change like pros.
Here are a few important tips for managing your PICC Line Dressing change at home.
---
Get the patient approved PICCPerfect®

★★★★★
Life changing for any PICC users
Bobbi
(Derwood, US)
07/09/2020
"I purchased one of these after having difficulty with the white mesh PICC cover provided by my insurance. The double layer function of this cover is genius. It is comfortable, lightweight, and keeps all tubing within the dual-layer design without rubbing against the skin. They come in great colors and do not slip down the arm like other covers might. I now own 5 of them and they have made having a PICC line something much more discreet and easier to handle. I recommend this for all people who use a PICC for any amount of time."
★★★★★
Favorite PICC line cover!
Maggie K
(Forest Hills, US)
05/16/2020
"I've had a PICC line for over a year. This is my favorite cover so far! Love that it's antimicrobial with silver ions and all that! Makes me feel more secure that my line is protected. And the material is good quality. Comfortable and light, just enough stretch, fits well and doesn't rip. I just wish there were more colors and patterns so I could buy more!"
PICCPerfect®: Antimicrobial PICC Line Covers
The PICCPerfect® PICC Line Cover protects and covers your PICC Line and brings dignity and comfort to your day! Patent No. D818120.
Functional Design: Double access points make it easy to access single and double lumens without exposing your PICC Line insertion site. The access points are bonded through a heating process (so no itchy stitching or thread!).
Antimicrobial and Soft-touch Fabric: Advanced fabric technology including antimicrobial, moisture-wicking and anti-odor properties for every kind of adventure.
Eco-friendly, Improved Recovery & Bright Patterns: Our unique fabric is recycled from coffee beans to lessen our environmental impact.
Concealing: We know how sensitive your skin can get every time your nurse needs to change your dressing; with our PICC Line Cover's two-layer design, your PICC does not have to touch your skin!
Bonded anti-slip edges prevent the cover from slipping down your arm.
This product is HSA & FSA eligible!

---
Keep your PICCPerfect® looking 100%

Don't use your PICCPerfect® for bathing or showering.
Use a waterproof PICC Protector.
The recommended use is 2 days. When at home, please wash your PICCPerfect® in a machine washer and tumble dry on normal-low heat. Use another PICCPerfect® while the first one is in the wash. We offer a discount if you buy multiple!
If your PICCPerfect® is falling down your arm even after washing and drying, you might be using a size too big. You can exchange it for a smaller size. At night, lay the PICCPerfect® that you're not wearing that day flat. This gives the spandex a chance to relax and reshape.
what is your PICCPerfect® size?

Measure around your bicep where your PICC line is placed. See the size guide below to select your size. If you are in between two sizes, select the smaller size.
FIT: The PICCPerfect® is designed to have a snug and comfortable fit around your arm. If your PICC line cover is slipping down your arm, even after following care instructions, you should be wearing a smaller size. For help with a size exchange, send us a text at 617-804-1837.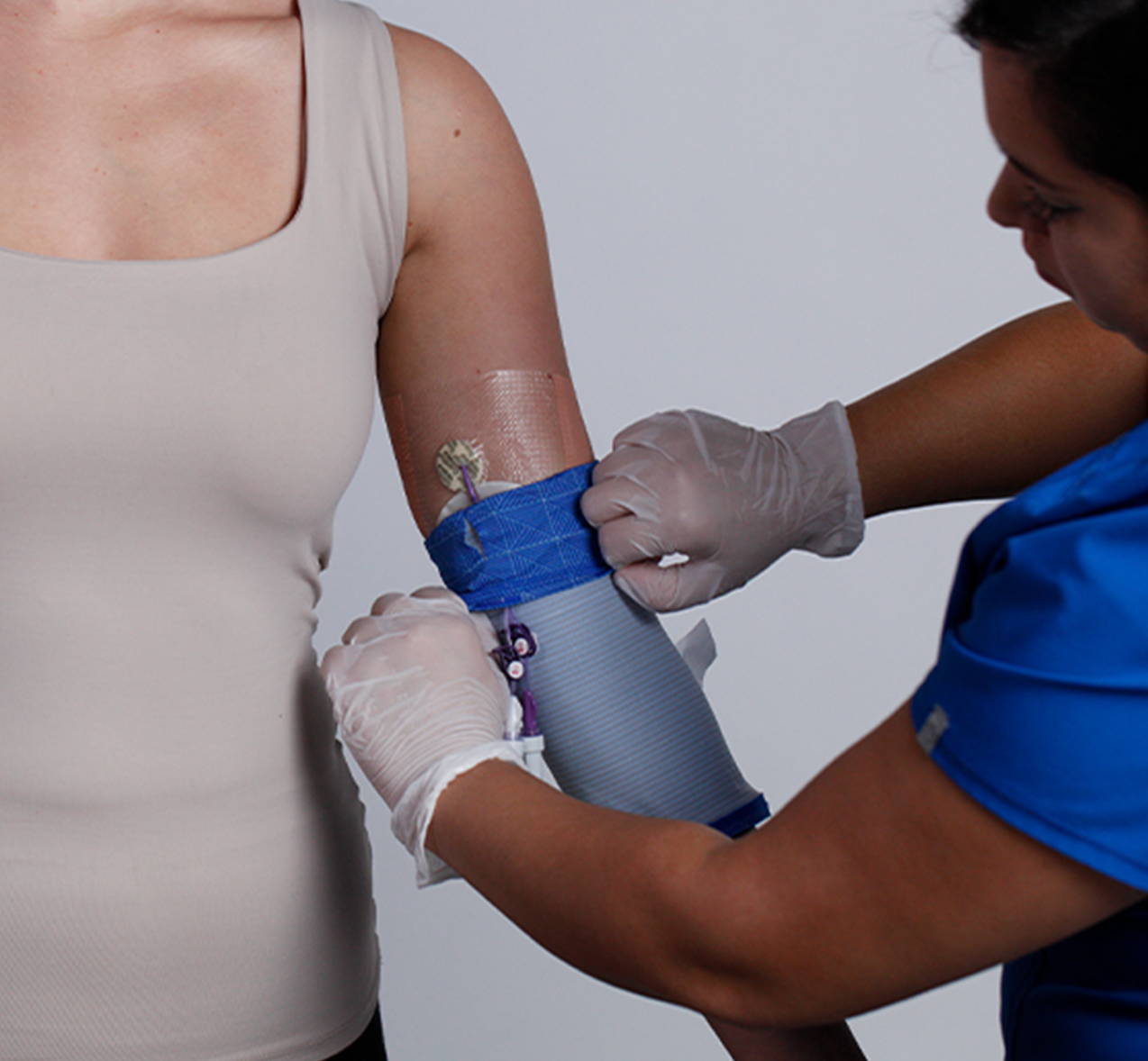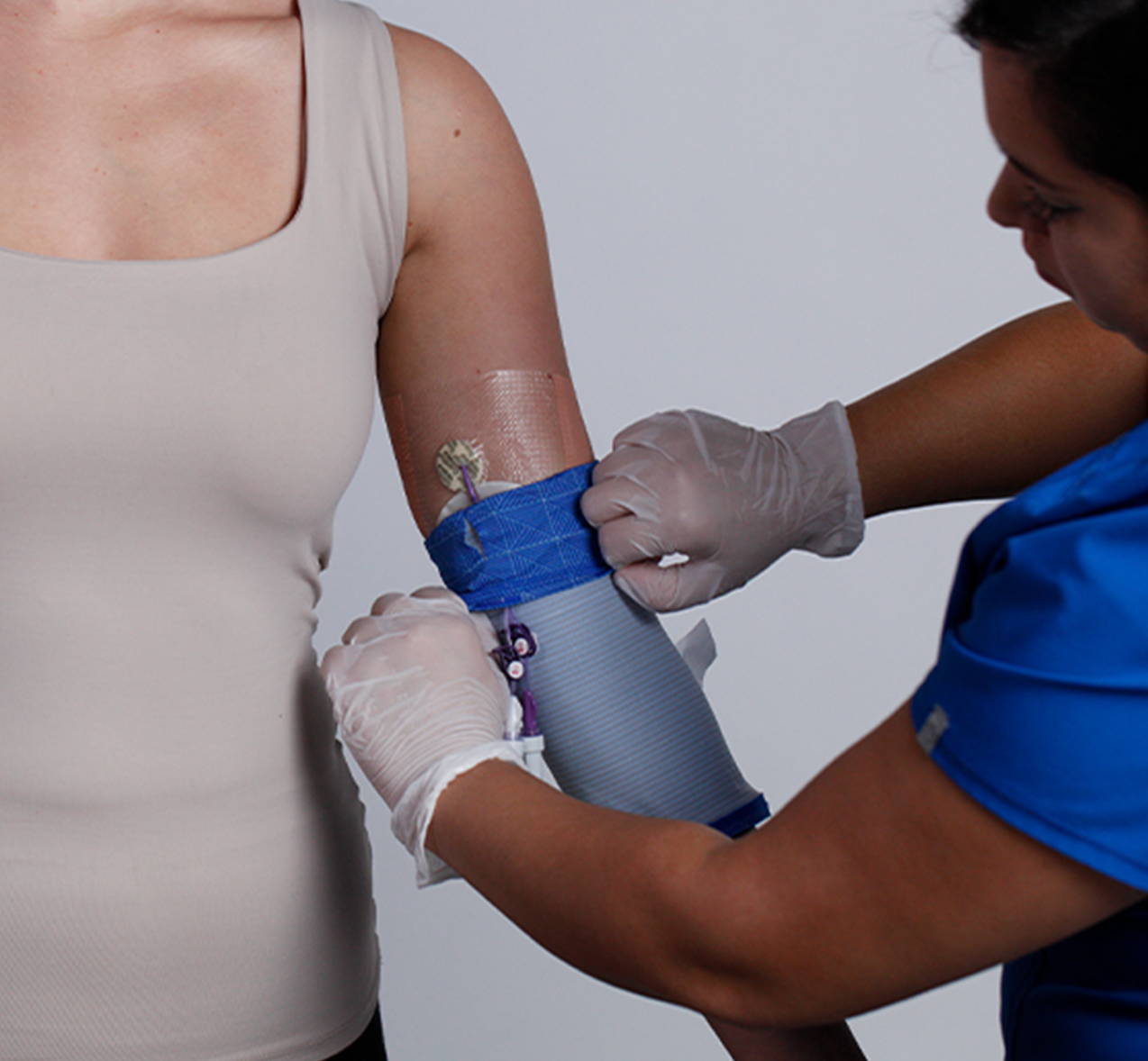 how to check on/visualize the PICC line insertion site:

Fold the OUTER section of the device down to show the PICC line. Then, fold the INNER section just enough to visualize the PICC line insertion site.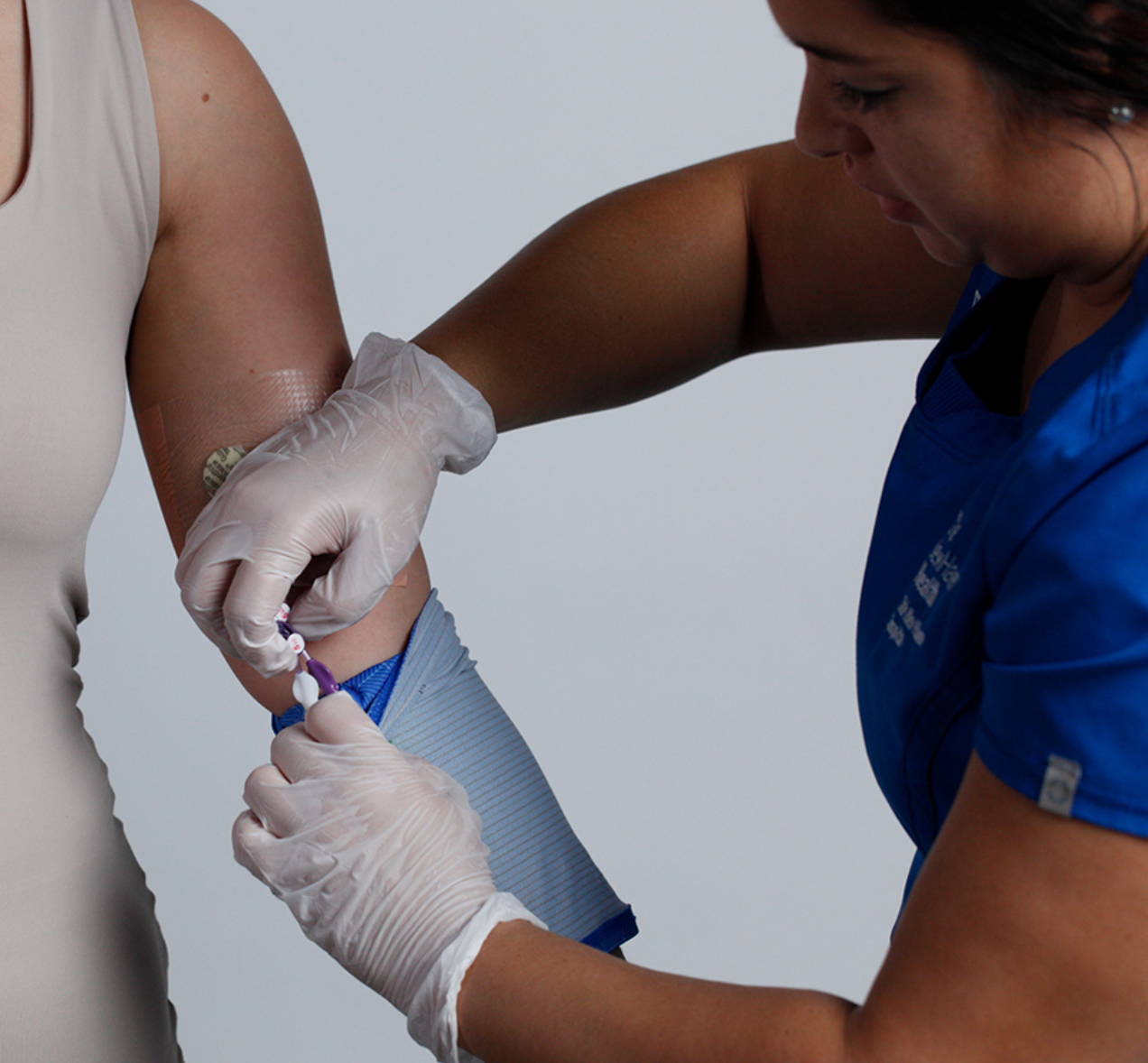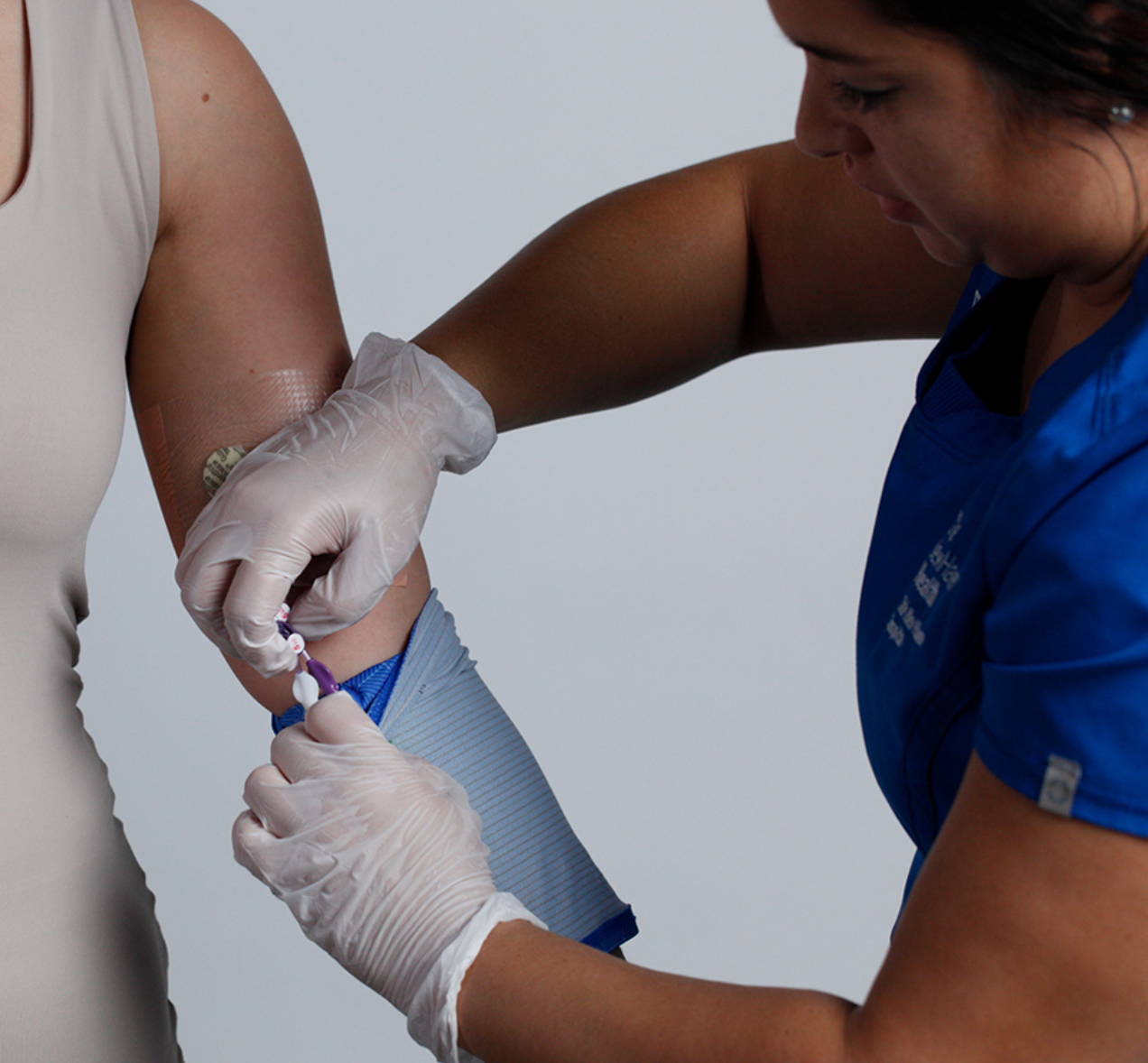 how to remove the device:

1. Fold the OUTER section of the device down to expose the PICC line.
2. Fold INNER section to visualize the PICC.
3. Gently, pull the lumen(s) out one at a time, and pull the device down your arm.
When at home, the suggested use of the device is 2-3 days before washing.

DO NOT use the device for bathing or showering. The PICCPerfect® is NOT waterproof.
DO NOT fold or pull down the device with force or quick movement.
DO NOT remove the device without bringing the lower section down first.
DO NOT put on the device without using a sterile dressing or changing on the site.