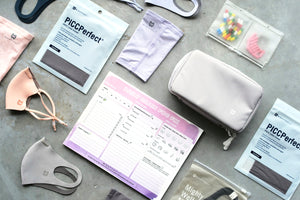 who we are
our team
Meet your Friends in the Fight™
Emily Levy
President / Chief Brand Officer
As a social entrepreneur and keynote speaker, I advocate for the inclusion of the lived experience of patients in health care. Previously, I served as a Vascular Access Speakers Bureau and Consultant for Becton Dickinson. The Cartier Women's Initiative Awards honored myself and Mighty Well as North American Fellows and I led the Mighty Well team's involvement in Morgan Stanley's Innovation Lab.

Ask Me About: Speaking engagements, product innovation, and the future of the Mighty Well platform.
Yousef Al-Humaidhi
Chief Executive Officer
Originally from Kuwait, I grew up learning the ropes of my family's business as a young adult. I later graduated from Babson College with concentrations in entrepreneurship, finance, and economics, and in 2022, I earned an MBA from MIT's Sloan School of Management.

Having witnessed how mental health and chronic conditions can affect those I love, I am inspired by seeing how our products can facilitate healing on a physical and mental level.

Ask Me About: You can reach me at yousef@mightywell.com with questions about Mighty Well in English or Arabic. I am looking forward to sharing how Mighty Well can help turn sickness into strength.
Maria del Mar Gomez
Marketing Manager
Since moving from the Dominican Republic in 2012, I have immersed myself in the health and wellness industry after watching my family and friends suffer from illnesses.

After graduating from Babson College with dual concentrations in TED and Environmental Sustainability, attending award-winning accelerators with Mighty Well, such as MassChallenge, and working as an Innovation Catalyst at Wentworth Institute of Technology, I have become a passionate advocate for business as a means for social change for both women and minorities.

Ask Me About: You can contact me in English or Spanish at maria@mightywell.com for information about Mighty Well's latest product launches, the Friends in the Fight™ community, or partnership opportunities.
Caitlin Allen
Chief Design Officer
Parsons School of Design alumni with over 13 years in creative direction and design development
Mat Bernstein
Lead Digital Strategist
Formerly managed digital strategy for the Fenway Sports Group;
Founder of Bern Digital