 thanks for choosing
Mighty Well
To ensure you make the best use of your H2O Shield™, we wanted to provide you with a quick guide on how to use it effectively at home or on the go, as well as some tips and tricks below.
need another h2o shield?
Need a daily picc cover?
how to put the H2O Shield™ on
instructions for use
Select your product below to download the instructions for use.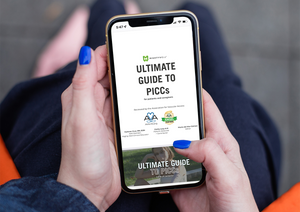 Limited time
Ultimate Guide to PICCs for Patients and Caregivers
Include the smaller details of your promotion in text below the title.
Access the Guide
care
The H2O Shield® is reusable but hand wash only. We recommend hand washing with a mild disinfectant or detergent.
If water gets inside the protector while cleaning, use a clean towel to dry. Store in a dry place at room temperature.
did I choose the right size?
With a flexible measuring take, measure the circumference of of the largest portion you intend to cover with the H2O Shield™. See our chart here and choose the best size fit. If you are in-between sizes, choose the smaller size. 
Our goal is to make your healing journey as comfortable as possible. If you have any questions or need further assistance, please don't hesitate to reach out to our dedicated support team.